The Suydam House is the GCHA's c1730 historical house and museum. Research has revealed that the house was originally a one room dwelling. It was enlarged c. 1760 to include a lean-to kitchen.
Towards the end of the 18th-century, (c. 1790), the house was extended to the east, the entire structure was covered by a gabled roof and a central chimney which vented three fireplaces was built. During the next 200 years, the addition to the west of the house of another 18th-century Cornelius1850.jpg (44445 bytes) building was the only structural change. This building, used as a workshop, was probably added in the 1830s.

After nearly 150 years of single-family ownership, the Suydam Homestead was sold in the 1950s. A serious fire, followed by makeshift and non-historic repairs, left the house in a dilapidated and desperate condition. Over the last decade, the Historical Association has stabilized the house, repaired the west wing and converted it into a gallery that now displays the many historical artifacts discovered on the site. Eagle Scout projects have helped in the restorationof fences and historic gardens. The heating and plumbing have also been replaced or modernized.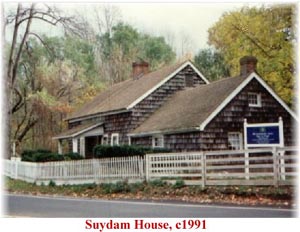 A non-historic barn was built on the property to house and display the Association's collection of furniture, farm tools, wagons, clothing and household objects, all donated by local Greenlawn and Centerport families. Extensive work in the summer of 1997 has resulted in the restoration of the exterior of the main building of the Suydam House. Repairs to the foundation and to the oak framing now ensure the structural integrity of the building. Historically appropriate windows, made specifically for this house, have been installed. Two layers of shingles covering the walls of the
house have been removed. Cedar shingles that replicate the surviving 18th-century shingles on the front of the building have been applied. Some of the original interior woodwork and hardware remain, but still need to be restored to their 18th-century condition. On the south side of the house a non-historical entryway was built. It is here that the names of the past and future contributors to this ongoing project will appear in appreciation of their generosity and support. The Association and its friends succeeded in placing the house on the National Register of Historic Places and opened the house and its collections to the public.
The ongoing effort to restore the Homestead and open it to the public represents the communities' dedication to the preservation of local history. Such an effort would not be successful without the continued support on the community and the help of volunteers.
Come visit us!